Past activities

---
Electoral Observation Mission (EOM) in Mexico - June 7, 2015 federal legislative elections

June 3-8, 2015
Mexico City, Mexico

>>> Program

>>> Mission final report

>>> For further information on COPA's EOM program
Meeting of the Executive Committee of COPA, of the Executive Committtee of the Network of Women Parliamentarians of the Americas and of the Committee on Environment and Sustainable Development

April 15-17, 2015
San Juan, Puerto Rico

>>> Official program

>>> Photos of event
13th General Assembly of COPA and 12th Annual Meeting of the Network of Women Parliamentarians of the Americas
November 3-5, 2014
Asunción, Paraguay

>>> Resolutions, recommendations and other related documents

>>>Photos of event
Meeting of the Committee on Human Rights, Aboriginal Peoples and Citizen Security

Saltillo, Mexico, August 8-9, 2014


>>> Photos of event

>>> For further information on the Committee
Meetings of the Committee on Education, Culture, Science and Technology and the Committee on Environment and Sustainable Development

Toluca, Mexico, August 6-7, 2014


>>> Photos of event

>>> For further information on the Committee on Education

>>> For further information on the Committee on Evironment


Upcoming activity
---
Electoral observation mission of COPA in Peru
As part of thefirst round of the General Elections to be held on April 10, 2016*
Recommendation on the dispatch of an electoral observation mission to Peru (PDF, 94 ko)
* Please note that COPA will be sending invitations to take part in the mission on February 25, 2016.
Further details coming soon.
---
Recent activity
---
14th General Assembly of COPA
13th Annual Meeting of the Network of Women Parliamentarians of the Americas

Guanajuato, Mexico
September 9-11, 2015

Full program (PDF, 752 ko)
Adopted resolutions and declarations
Photos of event
Click on photo to enlarge.
Opening speech by Senator Miguel Ángel Chico Herrera, current President of COPA.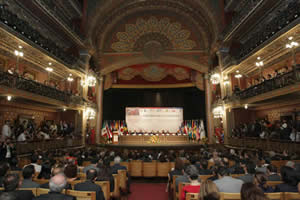 Opening ceremony at Juárez Theater, City of Guanajuato.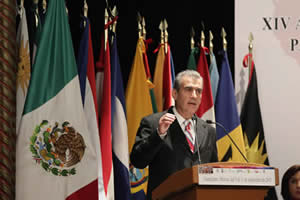 The President of COPA for the 2015-2017 term, Senator Miguel Ángel Chico Herrera.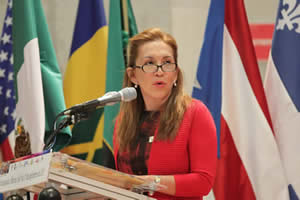 The outgoing President of COPA, Senator Mme Zulma Ramona Gómez Cáceres.